Shopping Cart
Your Cart is Empty
Thank you for your business!
You should be receiving an order confirmation from Paypal shortly.
Exit Shopping Cart
Orthoheel Shoes and Thongs
Orthaheel was founded in 1979 as a brand that aimed to provide innovative Footcare solutions. Initially Orthaheel developed a range of specially contoured and supportive inserts that expanded to fit a variety of footwear and uses.
After the success of the inserts the brand then created a range of thongs, sandals, walking shoes and duty shoes providing customers a comfortable fit that aimed to reposition the foot and encouraged a more natural alignment. To this day Orthaheel continues to cater for those people looking for great comfort and support through a dynamic range of casual and fashion footwear.
Did you know that many of us have a tendency for our feet to roll inward when we walk?
This is what experts call "pronation". It happens because feet that were designed to walk barefoot on soft, natural surfaces take a daily pounding on unnatural, hard and flat surfaces including footwear.
These "unnatural" surfaces force the feet to roll-over to gain ground contact and arches to flatten. This may lead to pain in the heel, knee, lower back and legs.
The Scholl Orthaheel design repositions the foot to help provide comfort and support.
The SONOMA Women's Active Casual Thong & Men's Wave Thong is another superior orthotic footwear by designed by Scholl. This classy looking piece is guaranteed to relieve tension and heel and even knee pains. The SONOMA and Wave series looks like any other thong out there, but it is built with high friction outsoles to protect you on almost any type of floor surface. Long term wear of these thongs not only help you walk better, but happier!
Malouf Manly Pharmacy is a proud stockist of the full range of Womens Sanoma & Men's Wave thongs competitively priced at $49.95 in-store. We also have access to the full range of pharmacy orthoheel style shoes, sandals & thongs. Please enquire on-line or in-store.
Masseur Sandals
Gentle Massage Sandal
The gently contoured footbed moulds to your foot, giving you added support and comfort. Just what you need to revive tired, aching feet and muscles.
Made with completely washable materials, the Maseur Gentle Massage Sandal features a natural cork lining offering effective moisture absorption and air-circulation. The flexible, lightweight sole offers excellent grip for any surface. And the adjustable Velcro strap has improved strength for a longer lasting perfect fit.
Invigorating Massage Sandal
The Maseur Invigorating Massage Sandal features hundreds of nodules contoured to your feet giving you an energizing massage as you move. The nodules apply gentle pressure to the nerve endings in the soles of your feet improving circulation, promoting relaxation, and rejuvenating your feet.
Made of completely washable materials, they are durable and waterproof. The flexible, lightweight sole offers excellent grip for any surface. And the adjustable Velcro strap has improved strength for a longer lasting perfect fit.
Malouf Manly Pharmacy stocks a full range and size of Masseur Sandals. Come in-store for a measure and fit.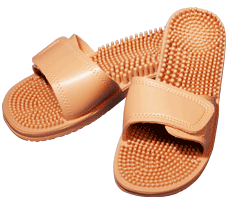 Neat ZORI
Zori is derived from a type of traditional Japanese footwear. Our modern sport version "Neat Zori™" are the most comfortable, convenient, and versatile footwear on the planet.
Neat Zori™ Sport Orthotic Slip-Ons can get wet with no problems and dry rapidly. They let your feet breathe naturally. Conventional shoes bind you, crushing the toes together, potentially warping the shape of your feet and trapping moisture in place leading to unhealthy foot conditions.
Neat Zori™ are healthy, lightweight, stylish and inexpensive. They are a sports-orientated, ergonomically soled slip-on with a V-shaped thong. The thong runs between the big toe and the rest of the foot and so keeps the slip-on securely in place. Neat Zori™ are made of high-quality rubber, with padded straps and a tough nylon toe piece with proven orthotic benefits.
Stabilising In-Sole

High Quality Construction

Combining Comfort Functionality and Style

Helps Reduce Foot / Leg / Back and Hip Fatigue

Proven Orthotic Benefits — Arch, Heel & Metatarsal Support

Lightweight, Water Resistant Materials

Ergonomically Designed

Ultra-Comfort Sole

Available in Red or Tan

Sizes from 4-12
0

/